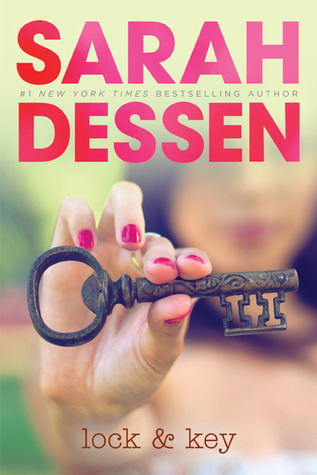 TITLE:
Lock & Key
AUTHOR:
Sarah Dessen
PUBLISHER/YEAR:
Viking / 2008
SERIES:
No
SOURCE:
Purchased
Goodreads
/
Author's Website
There's a reason Sarah Dessen has such a huge following. She consistently writes engaging young-adult novels that touch on themes close to many people's hearts.
Lock & Key
is no exception. Ruby has been living on her own for months after her mother took off, but once social services finds out she goes to live with Cora, her estranged sister and Jamie, Cora's down to earth, family oriented husband.
Honestly, it took me awhile to get into this book and I don't think it was the story, but me. I don't think I was in the right mood for this particular book on this particular day. That having been said, Dessen constantly writes compelling, flawed characters that draw me in and make me want to keep reading. Ruby is so hurt and this story is really about her and learning how to trust and reconcile her old life with her new one. I felt for her despite her flaws and her occasional obvious obliviousness.
Of course, there's also the boy next door. Nate, the hot swimmer who seems to have a perfect life, but as the two get closer and Ruby learns to open up, it becomes obvious that not all is what it seems. I found Nate's story to be almost more compelling than Ruby's. He was such a sympathetic character, always putting others before himself. I kind of wanted a glimpse into his head. I felt for him and wanted to know more.
Being a comfort read, the plot was fairly predictable,but sometimes that's okay. You know what you're getting when you read a Dessen novel and you start it because you know you'll like it in the end despite it's predictability.