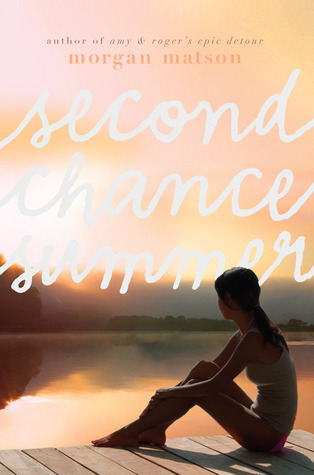 TITLE: Second Chance Summer
AUTHOR: Morgan Matson
PUBLISHER/YEAR: Simon & Schuster Children's Publishing/2012
SERIES: No
SOURCE: Local Library
Goodreads / Author's Website
Summary
Taylor Edwards' family might not be the closest-knit—everyone is a little too busy and overscheduled—but for the most part, they get along just fine. Then Taylor's dad gets devastating news, and her parents decide that the family will spend one last summer all together at their old lake house in the Pocono Mountains.
Crammed into a place much smaller and more rustic than they are used to, they begin to get to know each other again. And Taylor discovers that the people she thought she had left behind haven't actually gone anywhere. Her former best friend is still around, as is her first boyfriend…and he's much cuter at seventeen than he was at twelve.
As the summer progresses and the Edwards become more of a family, they're more aware than ever that they're battling a ticking clock. Sometimes, though, there is just enough time to get a second chance—with family, with friends, and with love.
Thoughts and Reactions
I loved, loved, loved Morgan Matson's debut novel Amy & Roger's Epic Detour and had high expectations for her follow up. I wasn't worried about being disappointed since I had heard amazing things and I'm glad to say that it lived up to all of my expectations. Morgan Matson has created a touching and heartbreaking story that really touched me on a personal level.
Taylor Edwards loves her family even though they've never been that close. Everybody has their thing; her dad is a workaholic lawyer, her little sister a ballet prodigy and her brother a genius who's planning on going to an ivy league school. Taylor's always felt average in comparison to everybody else, but she's been mostly okay with it even if she does have a tendency to run when things get difficult. Everything changes for Taylor and her family when her father is diagnosed with terminal cancer and they only have one summer left together. The entire family packs up to spend time together at their lake house in the Poconos and Taylor is forced to face old mistakes and problems as she is struggling to come to terms with what is happening to her family.
I'm pretty sure that from the time I opened the first page of this book tears started falling. It's not that the entire novel is sad so much as I was anticipating the ending and was remembering all too similar moments in my own life. Matson actually does a really good job finding those joyful moments mixed in with the grief; it was really beautifully done. I'm honestly not sure how I'm going to review this book as so much of it felt so real to me so please bear with me as I fumble through this one.
The thing about cancer is that it's always there, but it doesn't dominate every moment until it does. There are moments when it doesn't feel real, when everything feels like it can carry on as it always has, but you also know that something has fundamentally shifted and are trying to enjoy all the time you have. It's this balance that struck such a chord with me because it was all there. The moment that Taylor's parents tell the family what's happening is the part that really struck me. It's that sit down, you know something is wrong, but don't know what and then everything changes, but you're still sitting around the table and maybe you're not reacting in the right way moment. It's a moment I know. Everything about that moment stuck with me until the end.
So many books that deal with cancer focus on the grief, the anger, the sadness and that was at times present, but it didn't dominate the story. I tend to avoid books with parents with cancer because they can, in my opinion, turn towards the maudlin, but I didn't find that with Second Chance Summer. Taylor taking the time to really get to know her father while she still had the chance was touching and so positive. Reconnecting with old friends and trying to learn from past mistakes, even imperfectly, was a wonderful addition to the story.
I think the thing that I love is that this isn't a book about cancer, it's a book with it. Taylor has a life; she's reconnecting with people and trying to figure out who she really is. I just love how well written this is and how well life is balanced with grief. The things that tore me apart were so real that I could not stop crying. I have not faced anything as difficult as watching my mother get sicker and sicker and I didn't always know how to deal with that or what I should be doing. This is a character who embodies that process.
Matson deserves all the credit she's received and more for such a beautifully written and poignant story. It touched me on so many levels and while it took me back to some very difficult times I don't think that's necessarily a bad thing. This was a book that that was heartfelt in its writing and provided comfort while it inspired tears. If you haven't already read Second Chance Summer please do. I cannot recommend it highly enough.