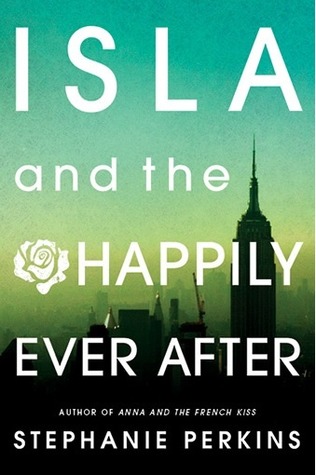 TITLE: Isla and the Happily Ever After
AUTHOR: Stephanie Perkins
PUBLISHER/YEAR: Dutton / 2014
SERIES: Yes, but can be read as a stand alone. It follows Anna and the French Kiss and Lola and the Boy Next Door
SOURCE: Purchased
Goodreads / Author's Website
Summary
Love ignites in the City That Never Sleeps, but can it last?
Hopeless romantic Isla has had a crush on introspective cartoonist Josh since their first year at the School of America in Paris. And after a chance encounter in Manhattan over the summer, romance might be closer than Isla imagined. But as they begin their senior year back in France, Isla and Josh are forced to confront the challenges every young couple must face, including family drama, uncertainty about their college futures, and the very real possibility of being apart.
Featuring cameos from fan-favorites Anna, Étienne, Lola, and Cricket, this sweet and sexy story of true love—set against the stunning backdrops of New York City, Paris, and Barcelona—is a swoonworthy conclusion to Stephanie Perkins's beloved series.
Thoughts and Reactions
You Guys, I've loved everything I have ever read by Stephanie Perkins. I basically swooned my way through Anna and the French Kiss (it remains a favourite book of mine to this day) and while Lola and the Boy Next Door wasn't as memorable for me I still loved it at the time. I have been looking forward to reading Isla and the Happily Ever After for ages and I'm so glad I finally got the chance to.
Isla and the Happily Ever After is set the year after Anna and the French Kiss. Isla is living in New York for the summer when she runs into Josh, the boy from school who she's had a crush on forever. Once they're back in Paris they're inseparable, but of course life gets in the way. They have a few romantic weeks, but Josh's issues with rules come back and threaten to separate them as does the looming possibility of going to separate countries for college.
Isla isn't exactly what I was expecting when I first started reading it, but I don't think that's a criticism in the slightest. Both Anna and Isla were on the lighter side of reading for me; they dealt with real world issues, but the characters were fairly confident and I, as a reader, was confident in the happy ending. These were fictional characters that swept me off my feet, but they were still fictional characters living in a beautiful version of the modern world. These are a few of the reasons why I love the books so much. Isla was different in that way though; she felt more real, more grounded as a character. She hit very close to home for me.
There were moments reading this book that I admit I had to put it down and it took me awhile to pick it back up again. This went on right until I was finished. The writing was as always spot on, but I saw a lot of myself in Isla and not always in the best way. She's a bright, academically motivated high school senior, but she doesn't have a plan and feels completely adrift. She has a lot of insecurities that just are. They don't really have an explanation, but they affect her decisions, her relationships, everything really. It was hard to read parts of it because I know that I myself have made and will continue to make a few of her poorer decisions. This was a girl I know well. Picking a fight with a boyfriend because of some fear that really only stems from your own mind? Yup, been there. Anna is one of my favourite books because it's escapism for me; I loved Isla, but because it felt REAL. This is a story that I know.
The story line has none of the big dramas of the other two novels, again it felt more grounded in reality. At times the pace may have felt sluggish for some, but for me it was perfect. Josh is a senators son and talented artist who has some issues with school and rules and sure these kids can hop on a train to Barcelona, but nothing felt over dramatic. The tone was right and their reactions were those of high school students. Most of it focuses on the painful decisions you have to make once you graduate and separate from the people you've known for years. It's about trying to figure out your place in the larger world and how you react to it.
One of my favourite things about Stephanie Perkins is her ability to weave humour and levity into her books that aren't always light and fluffy and that remains true with this one. I also love the settings. The worlds she creates are beautiful and filled with artwork and love. It's really our world as it should be. Anna inspired me to go to Paris the first time and Isla makes me want to revisit it. The beauty of the scenery is inspiring and it makes me want to live in this world with murals on the walls and trains through the countryside. Even getting drenched in the rain sounds romantic when it's on the pages of this novel.
Isla was a harder read for me and I know I won't revisit it as much as I would with the other novels in this series, but only because it is so well written and spot on. If I didn't relate to it as much as I do it would be easier to read, but wouldn't be as real. This book affected me in ways that the other novels did not and I'm grateful for that. I'm so glad that I finally read it and I'm glad I persevered even when I found it difficult. It's a fantastic end to one of my favourite series.