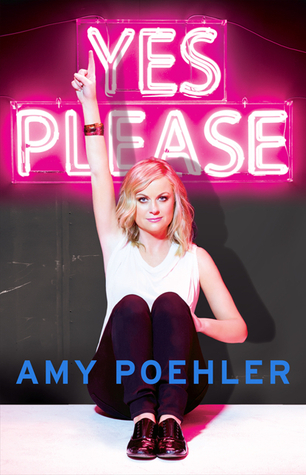 TITLE: Yes Please
AUTHOR: Amy Poehler
PUBLISHER/YEAR: Harper Collins / 2014
SERIES: No
SOURCE: Received as a gift
Goodreads / Book's Website
Summary
In Amy Poehler's highly anticipated first book, Yes Please, she offers up a big juicy stew of personal stories, funny bits on sex and love and friendship and parenthood and real life advice (some useful, some not so much), like when to be funny and when to be serious. Powered by Amy's charming and hilarious, biting yet wise voice, Yes Please is a book is full of words to live by.
Thoughts and Reactions
I had been waiting not so patiently to read Yes Please since the moment I first saw it on the shelves in my local bookstore. It was coming up to the holiday season though so I waited. Luckily my lovely family knows me well and I was able to read it over my holiday break. It was well worth the wait.
Yes Please was not what I was expecting; I hadn't read the summary. I just saw Amy Poehler and thought funny. It was, at times, funny, but it's not a humour book and that took me by surprise. It's not at all a bad thing, just be aware that this isn't another Bossypants and you know what, that's for the best. Bossypants was amazing; why would we need another one? Yes Please is almost more personal; it's a reflection on the events and lessons that made Amy Poehler who she is. It's not about career or family specifically and she doesn't go deep into details, but leans more towards advice and reflection on growing up, apologizing and being a woman. The book moved me. I was unprepared for that.
Yes Please is the kind of book that I want my future daughter to read (you know, once she's an adult....and not a figment of my imagination...it's an expression okay!). I want to shove it into all my female identifying friends hands. There's some celebrity name dropping (as there should be) and some reflections on what's important in life. My favourite chapter is about women on women crime. Those little microaggressions that stick with a person long after they're said, catty comments, the I don't know how she does it. Advice like great for her, not for me is simple, to the point and wonderful. I just love Poehler's take on womanhood and growing as a person.
I don't know that I can really sum up Yes Please like I would with any other book. There are wonderful words of wisdom and some funny real world advice (sex advice for me: if you don't eat pussy keep walking). People who are important to Poehler's life chime in. I mean, it's a wonderful, funny, moving memoir. Just read it. It brought tears to my eyes at points. Poehler didn't write a book about career or comedy, but life and I can think of so many people in my life who could appreciate what she has to say.