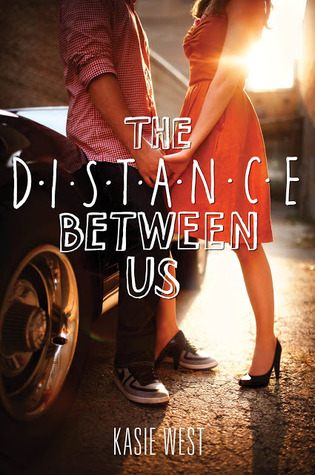 TITLE: The Distance Between Us
AUTHOR: Kasie West
PUBLISHER/YEAR: Harper Teen / 2013
SERIES: No
SOURCE: Purchased
Summary
S
eventeen-year-old Caymen Meyers studies the rich like her own personal science experiment, and after years of observation she's pretty sure they're only good for one thing—spending money on useless stuff, like the porcelain dolls in her mother's shop.
So when Xander Spence walks into the store to pick up a doll for his grandmother, it only takes one glance for Caymen to figure out he's oozing rich. Despite his charming ways and that he's one of the first people who actually gets her, she's smart enough to know his interest won't last. Because if there's one thing she's learned from her mother's warnings, it's that the rich have a short attention span. But Xander keeps coming around, despite her best efforts to scare him off. And much to her dismay, she's beginning to enjoy his company.
She knows her mom can't find out—she wouldn't approve. She'd much rather Caymen hang out with the local rocker who hasn't been raised by money. But just when Xander's attention and loyalty are about to convince Caymen that being rich isn't a character flaw, she finds out that money is a much bigger part of their relationship than she'd ever realized. And that Xander's not the only one she should've been worried about.
Thoughts and Reactions
I love contemporary romance. Love it. Even if I hear a book isn't great or has something lacking I'll probably pick it up at some point. I rarely regret it and even if I didn't love the book I can say I genuinely enjoyed my time reading it. I finished The Distance Between Us last night and I upon some reflection I think this book falls into that category for me. I didn't love the story, but it was an enjoyable way to pass my commute and I found the hour I was on the bus going by a lot more quickly than it normally does.
Caymen works in her mom's doll store and lives above it in a town that's very divided between rich and poor. She is most definitely poor. She's smart, funny and sarcastic and has a lot going on for her. I enjoyed reading about her life and liked that she had some backbone even in the face of some pretty cute guys. Xander was charming and sweet and crazy rich and there were moments between them that stole my heart, cute, little moments. So the characters and romance kind of won me over from the beginning.
That having been said, The Distance Between Us was kind of lacking for me. It was in the story, the plot itself more than anything else. It was thin. There were these great characters who I wanted to know about, but the details were glossed over, the things that made them into people I could really care about. It was very much about rich vs poor and little else. We know Caymen is sarcastic and poor and Xander is rich, but I can't say I know much else about them. Caymen distrusted Xander because of how much money he has. She was worried about her mom and the store because of how much money they didn't have. We're told she likes science but rarely get to see that. It felt shallow.
The family dynamics also felt shallow and a little unbelievable to me. Caymen is supposedly super close to her mom, a single mom who raised her after the teenage father ran off, but they argue and hide things from each other constantly. Again, this could be believable and dynamic, but it felt like we only saw the surface of their relationship. Between that and the ending I couldn't help but roll my eyes a couple of times.
I wanted to like this book more than I did. It had a sweet premise, amazing cover and I love romances. It just didn't quite live up to my expectations. I wanted more depth. I didn't care about the characters and breezed through the book quickly. Nothing really stuck with me. It was the perfect book for me to read on my commute and I think it would be a fun beach read or something to take with you on vacation when you want light, fun, and fast. I can see why others would like this book even if it's not the perfect story for me.